The Xiaomi Mi Band 4, and its cheaper-but-capable predecessor the Mi Band 3, are cheap fitness trackers with a built-in photoplethysmographic (PPG) heart rate sensor, step counter, and basic sleep monitoring. They sync to your phone in the background without you needing to open an app. (Unlike my glucose meter.)
There are many alternatives in this market but what sets the Mi Band 4 and 3 apart are their two-week battery life with continuous 10-minute heart rate readings. Most of the competing devices either have less than a day's battery life, strap around your chest, or costs three times as much as the Mi Band.
While the technology does read a heart rate from a toilet roll it also works on most human skin tones. I've tested the Mi Band 3 against the same type of sensor on a Samsung S8 and their measurements always agree with each other. It should probably be accurate enough to keep an eye on the old life pump for your entertainment.
The Xiaomi Mi Fit app for Android presents the heart rate readings as a list and leaves it at that. You can't see any trends or get anything useful out of a list of the raw data. The app can optionally synchronize your step counter and sleep data with the Google Fit app, but not your continuous heart rate readings.
This is where the third-party Tools & Mi Band app comes in. This companion app for the Mi Band lets you add extra functionality and customize your Mi Band's screens and notifications.
For the purposes of this article, the app can also tweak your continuous heart rate monitoring settings and change them to flash readings every 10 minutes. This greatly improves the battery life compared with the more frequent readings you can enable in the Mi Fit app.
Tools & Mi Band also presents your heart rate readings visualizes your heart rate data much better than the Mi Fit app. You'll get bar charts with average readings from the last two hours, and per-day readings for the last week, plus charts for the last month. You can also enable additional charts in settings.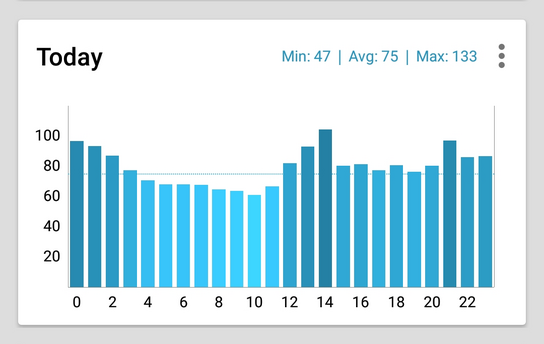 You can export data from the Tools & Mi Band app to a comma-separated values (CSV) formatted file if you'd like to copy them over to another app or do your analysis. You can also see every individual reading inside the app, in sharp contrast to the Mi Fit app that hides most of the readings and only shows you some of them that it has arbitrarily decided are representative of the day.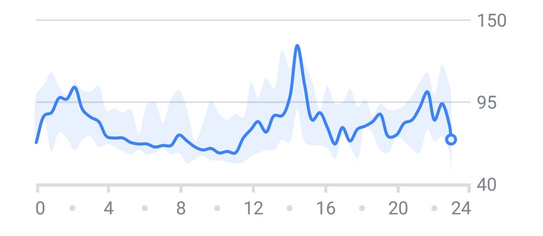 The Tools & Mi Band app can also optionally synchronize your heart rate readings to the Google Fit app. Google Fit gives you a smoothed line graph surrounded by a rolling min–max band throughout the day. It's a much better visualization and it makes a much better job at presenting the data in an easy-to-digest way.
Xiaomi may not have cheapened out on their Mi Band 3 hardware, but their Mi Fit app clearly isn't their best work. The Mi Fit app should do a better job with presenting your health data without the need to involve third-party apps and services.
Closing words on privacy
Xiaomi's 5470-word privacy policy is on the long side, but it appears to be fine to me. They'll not sell or otherwise share your data or use it against you. As a Chinese company, they'll store your data in either China or Singapore. Not everyone may be comfortable with this.
You need to use the Mi Fit app to set up your Mi Band, and you also need to leave it installed on your device for the Tools & Mi Band app to work. After you've set up the Mi Band and updated its firmware, you don't need to let it talk with the internet anymore.
You can use an application firewall app like NetGuard to block the Mi Fit app from communicating with the internet and keep your data on your device.
As mentioned before, you can get along just fine using just the Tools & Mi Bands app without syncing to Google Fit. The Mi Bands app doesn't send your data off-device unless you explicitly opt-in to enable Google Fit synchronization. The app also charges you an up-front cost and doesn't include any tracking or advertisements.