So, you haven't yet upgraded to a phone with a reversible USB Type-C cable? There's an app for that.
USB Type-C Simulator is a mobile app somewhere in the category between a piece of art, social commentary, and a mobile game. The novelty app lets you insert and reverse a USB Type-C cable to your hearts content in one of seven different virtual smartphones. That is all there's to the app; but it's quite well done for what it is. The game has a beautiful pixelated art style that compliments its simplicity quite well.
While the app concept and execution is very straight forward; players get treated to a fantastic sparkling rainbow display with fantastic accompanying music every time they insert the USB cable. The fabulous display that ensues from plugging in the cable should be enough to trigger the reward center in the primal part of just about anyone's brain.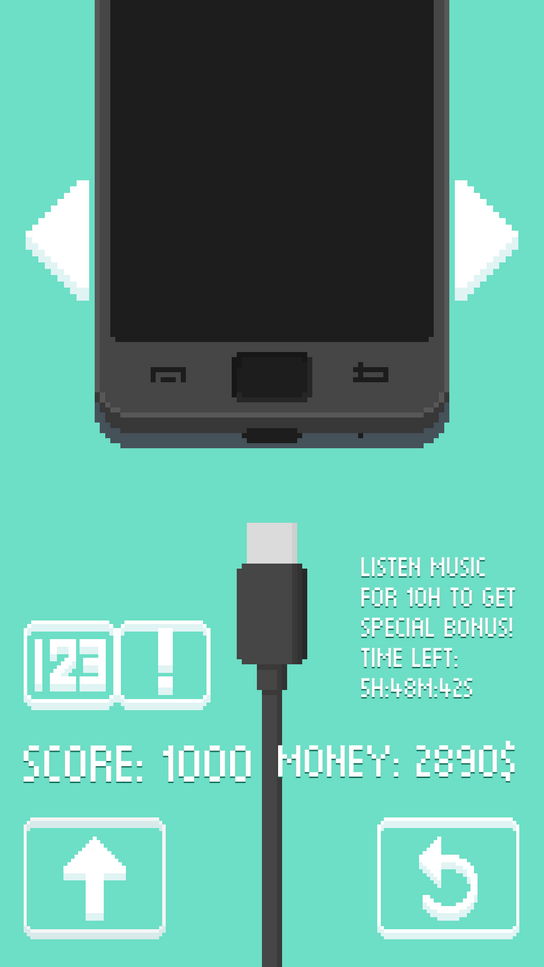 The real joy of the game is to discover one of the new USB Type-C cable connector's main benefits: there's no right-side-up! The cable works in any orientation!
You can unlock additional virtual phones in the game by repeatedly plugging and unplugging the cable, or by rotating the cable. Each task helps you towards completing quests which grant you larger bonus payouts.
The actual game isn't all that interesting. I was more fascinated by an app built around a cable connector standard. I doubt many non-technically minded people will ever download this app and learn about the wonders of the USB Type-C connector. Although this app is something that Samsung or one of the other major phone vendors maybe should have created as a promotion for their own devices with Type-C connectors. I believe this app could have been an effective and cheap advertisement for a specific device given a little PR help.
Update (): The app is no longer available on Google Play.
USB type C Simulator is available exclusively for Android on the Google Play Store. The app is cost-free but with advertisements.
Gameplay tip: You can tap the plug/unplug and reverse buttons at the same time to insert/remove the cable while rotating it. This strategy will let you maximize the bonuses money you can collect from completing quests. For any achievement hunters out there, there's an easy 87 000 points across 8 achievements in Google Play Games.
Please be aware that the app encourages you to repeatedly and rapidly tap on the same point on the screen only to throw up a full-screen advertisement that covers up the area you're clicking on. That is against the terms of service for most mobile advertisement networks, yet the app does it anyway.
This has only happened after you've played the app for a little while, and then it happens a few seconds after your start the game. I do want to call out Adrian Zarzycki — the app's developer — for this obtrusive advertisement behavior and badly behaved app. Bad app developer. Bad.