Lenovo offers a neat HDMI-dongle/mini-computer with Windows 10 Home edition at half the price of a standalone Windows 10 license. The only problem is that it isn't suited for running Windows.
The year-old Lenovo IdeaCentre Stick 300 is a tiny little computer that's designed to be plugged straight into an HDMI display, wireless networking, and a Bluetooth keyboard and mouse. It isn't super powerful, but it's fast enough to get most tasks dune except gaming and other computing-intensive tasks.
I'm primarily a Linux user, but occasionally use some Windows-only software. I also want to keep on top of the development of the Windows platform. My use for a Windows computer is thus very limited, and I only need "something cheap that runs Windows." I've been running Windows in a virtual machine, but wanted to move it out onto its own dedicated system. The ultra-cheap Lenovo IdeaCentre Stick 300 seemed perfect secondary PC that would fit the bill.
Accessories and Design
The Lenovo IdeaCentre Stick 300 is a black slab of plastic with a one USB-A and one Micro-USB (for power) port, one Micro-SD card slot, and an HDMI male connector sticking out on one end. It's intended to be used as a media center or thin client that goes behind an HDMI-display and used with wireless networking and Bluetooth keyboard and mouse.
The stick is following a minimal and functional design with a discreet black finishing that shouldn't be very noticeable behind a black-framed display or TV.
The backside of the device, which depending on your display's HDMI connection may end up being the outward-facing side, is covered almost entirely white-label filled with technical and legal information. This amount of jargon would be unacceptable at the back of a smartphone, and I can't see why Lenovo included all this information so prominently on the device.

The IdeaCentre Stick 300 charges via a standard Micro-USB port. Lenovo's marketing materials kept reminding me that I needed a high quality power supply to go with the device, and I was left with the impression that I'd to get this separately. I didn't research the contents of the box before purchasing, so I was quite surprised to discover that Lenovo had included a power supply and an A–Micro-USB cable in the box.
Given the inexpensive price, I was even more surprised to find a 5 centimeter HDMI extension cord included. This can be an essential accessory if your display or TV have little room for the Stick 300 around their HDMI ports. I didn't need it, but I did appreciate the gesture.
Lenovo had even thrown in a tiny holder/bracket with an adhesive backside that can be used to attach the device on at the back of a display.
Performance and networking worthy of a toaster
IdeaCentre Stick 300 is powered by a Quad-core 1,83 GHz Intel Atom Z3735F. It's a 64-bit processor, but the system can only run 32-bit operating system. I'll get back to this point in the next section.
The Intel Atom Z3735F is an incredible value considering the price of the device. It's absolutely not suited for editing high-resolution videos or gaming, but it runs any webpage and plays high definition video well. It should be more than sufficient as a fairly driver for most people, even for those who hordes tabs in their web browsers.
I didn't want to plug in any accessories into the device to avoid cluttering up my desk. Nor did I want to stick the IdeaCentre Stick at the back of my monitor. Instead, I intended to use it over Remote Desktop Protocol (RDP) and access it through my Linux PC over the network. Windows 10 Home isn't supposed to have RDP support, but RDP support in Home edition can be enabled non the less. This requires fast graphics processing, which the IdeaCentre Stick is capable of, and fast networking which turned out to be much more of a problem.
The networking and storage performance is an entirely different matter. I'll talk about the networking issues for the remainder of this section of the review, and cover storage performance and issues in the next section.
Other reviewers have complained a lot about the flaky wireless networking. It took me a while to work out what is going on with the networking, and there seem to be three main issues at play:
Firstly, Lenovo can't hide that the Realtek RTl8723bs wireless module that sits in the IdeaCentre Stick 300 was designed for use in light bulbs, toasters, bathroom scales, and other "Internet of Things" type devices. It wasn't ever designed with the data throughput requirements of a modern multimedia system. It's quite a shame, as it leads to some buffering when streaming video even though the device itself is fast enough to process it.
Secondly, the Realtek module seems to be very badly affected by high temperatures. Whenever the device gets a little bit hot after prolonged use, the Wi-Fi module starts disconnecting and reconnecting every few minutes. There isn't much that can be done about it other than trying to improve air circulation around the device and keeping the system load low. The IdeaCentre Stick 300 has a tiny fan in its chassis, and it will start roaring at the same time as you'll start running into problems with dropped Wi-Fi connections.
The third issue is that the newer Wi-Fi drivers for the Realtek RTl8723bs SDIO module have issues with the modern 802.11n networking standard. This causes the driver for the module to stop and start again which results in a temporary loss of networking which is separate from the issue that occurs when the temperature increases.
You can disable 802.11n networking in Windows to mitigate this issue. You'll fallback to one of the older (and slower) wireless standards but at least it will reduce the number of times the network will drop out. To disable 802.11n in Windows:
Right-click on Start and choose Device Manager
Expand Network Adapters, select Realtek RTL8723BS, right-click it, and choose Properties
Select the Advanced sheet, and select Wireless Mode
Change the Value from 802.11b/g/n to IEEE 802.11b/g
Click OK to apply the change
Many Linux users are well aware that Realtek's wireless devices are subpar, and especially when it comes to 802.11n networking. This is the first time I've experienced such a severe service degradation on the Windows side, however. Unlike with a more standard and serviceable laptop, you can't just replace the substandard Wi-Fi module with a more reliable and better performing module as I've recommended for laptop users in the past.
I've ended up using the Lenovo IdeaCentre Stick 300's only USB 2.0 port to connect a USB to Ethernet adapter to avoid relying on the bad wireless networking. I thought about using a USB–Wi-Fi adapter dongle, but rejected the idea as that might contribute to increasing the operating temperature of the Stick.
Storage, or the lack thereof
The limited storage capacity is probably the second largest problem after the wireless networking problems. The Stick 300 has a tiny Sandisk SDW32G of 29,7 GiB (32 GB) of storage. There's an Micro-SD card slot for storage expansion, but that slot also doubles s an air intake for cooling that will be blocked if you insert an SD card.
Only having 32 GB of storage is quite problematic for a device intended to run Windows 10. Windows 10 requires 32 GB storage for itself, leaving no room for any user data. Even with no user data, 32 GB is not enough to run Windows Update to keep the device up to date.
You can free up some 3 GB of storage from the default Windows installation by reinstalling Windows manually. I'll get into more details on this in the next section.
The Intel Atom Z3735F is a 64-bit capable processor, but the IdeaCentre Stick 300 only comes with 32-bit Windows 10 because of the tight storage constraints. The 64-bit variant of Windows requires an additional 4,4 GiB of storage as compared to the 32-bit variant. On such a small device, that would be a significant storage cost that would be hard to justify.
Being confined on a 32-bit variant of Windows 10 isn't all that different to 64-bit. However, some security and advanced features isn't available to 32-bit Windows, such as the new Windows Subsystem for Linux. Everything in the Stick 300 is 64-bit capable except for the EFI boot system which is 32-bit only. This is such a rare combination that you'd be hard-pressed to work around it and get a working 64-bit Windows 10 system running, but it could be done with ≈45 minutes of extra work for a Linux system.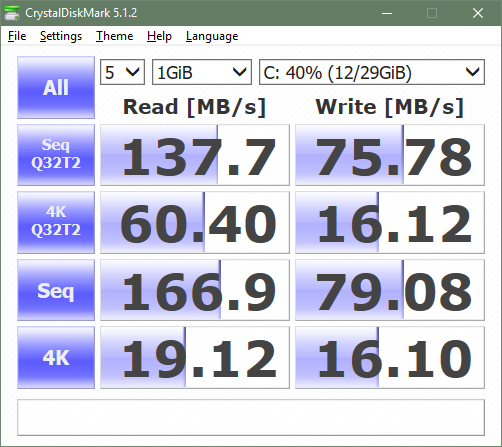 Despite the dreadful Wi-Fi performance, the biggest performance bottleneck of the Lenovo IdeaCentre Stick 300 is the slow disk performance. I've benchmarked the Sandisk SDW32G to around 19 MB/s read and 16 MB/s write for random read/writes of 4 kilobytes of data using the CrystalDiskMark storage medium benchmarking suite.
This is exactly what is to be expected from an eMMC controller disk, but it's still inexcusably poor performance compared to the relatively fast processor that Lenovo chucked into the device. It's noticeable when opening folders containing many images and files, and sometimes even when opening up the Start menu.
Windows Update and Windows-problems
As mentioned before, storage space is at a premium on the Stick 300 which causes issues for Windows Update. The Stick 300 I got came with the first public Windows 10 RTM build from the summer of 2015.
However, I didn't receive any updates for it through Windows Updates no matter what I tried. As it turns out, the Windows 10 Anniversary Update requires more storage space for an in-place upgrade than is available on the Stick 300.
This is quite a big problem, and most regular customers are unlikely to ever work out that they're not receiving the updates they should nor work around the problem. Expanding the storage space through the MicroSD expansion slot doesn't do anything to increase the Windows 10 system disk, leaving the problem unresolved.
If you get a USB memory stick and load it as a Windows 10 Anniversary Update install media, a USB keyboard and mouse, and a USB hub plus about an hour of your time you'll have all you'll need to update the system manually. All these extra accessories will cost more than the Stick 300 itself, so you may feel like cursing at Lenovo and Microsoft throughout the process.
This is a general problem with Microsoft's new delta-update scheme that deliverers all previous updates in a combined update. Small storage devices that get a bit out of date (like a year in this case) will have higher storage requirements and more trouble with installing updates as these delta-upgrades grow in size over time. It's Lenovo's fault for shipping Windows 10 on a device without meeting Windows 10's storage requirements.
However, at the time when the Stick 300 started shipping, this wasn't yet a problem – furthermore, it should be less of a problem for devices that have received and installed updates regularly over time.
Probably due to the tight storage constraints, but there's practically no bundled default software/crapware with the Stick 300. This may vary by market!
The Lenovo Solution Center is installed by default and it remains as useless as always. Windows Update will not fetch the correct graphics drivers for the IdeaCentre Stick 300, nor does Lenovo Solution Center or even the Lenovo website distribute up-to-date drivers.
Luckily, the Lenovo IdeaCentre Stick 300 is virtually identical to the Intel Compute Stick STCK1A32WFC, so its graphics drivers will work on the Stick 300 as well. Installing the correct drivers boosted video performance, and restored audio-over-HDMI capabilities to the Stick.
I was pleased to see there was no sign of the scare-ware 'Lenovo Optimizer' suite, which I've reviewed thoroughly in the past.
On top of the graphics driver issues, Lenovo Solution Center didn't notify me about the available BIOS firmware update that was available on the Lenovo website.
Other than that there isn't much more to say about the few programs that Lenovo distributed with the device. I'd like to point out, however, that none of the Lenovo programs are keyboard accessible. This can lead to accessibility issues for some people, but with this single-USB-port device it can lead to accessibility issues for even more customers than normal as you may have to choose between plugging in a mouse or a keyboard. Based on this alone, I'd say that anyone with accessibility needs should steer clear of Lenovo products.
Randomly refuses to boot
If the IdeaCentre Stick 300 is left operating at a high temperature, it can sometimes reboot on its own. You'll hear its tiny little fan whirl for hours before this is a problem. When this happens, and sometimes when it normally reboots or during a Windows Update boot cycle, it can get stuck in a Windows error screen like the one shown below:

The screen asks you to click one of two options to proceed. Unfortunately, it can't pair with Bluetooth devices while in this screen; meaning your wireless keyboard and mouse will be worthless. It also wouldn't load drivers for any hot-plugged devices; meaning you can't even plug in a wired keyboard or mouse to get it going again. These aren't hardware limitations of the IdeaCentre Stick, but rather limitations imposed by the minimal Windows environment that's created for this error message.
If you power cycle the device two–three more times, Windows will attempt a normal boot and you should be fine. However, if you rely on headless or remote desktop access then this is a big problem.
The currently 'most helpful' review on Amazon.com incorrectly states: "However, it can't be set to boot as soon as power is supplied, which the [Intel] ComputeStick can. Until Lenovo provides a solution, this isn't appropriate for networking closets, as we intended." There's a setting to enable this in the firmware. People elsewhere on the web claim that this setting is either on or off for them by default. I also found it to be off by default, but it took less than a minute to find the setting when I went looking for it.
Unlike the early versions of the Intel ComputeStick, which the Lenovo IdeaCentre Stick is based on, you can start the IdeaCentre Stick without plugging it into a HDMI device.
Conclusion
The Lenovo IdeaCentre Stick 300 (Windows Signature Edition) is cheaper than buying a Windows 10 Home license. This is what first appealed to me about it and I still believe I got much more value out of it than a I would if I'd invested in a standalone Windows license for use with a virtual machine.
There are few uses which the Stick 300 excels at. It's good enough for most daily browsing tasks and given some time to buffer, it can even play high-quality video. Given the performance and storage limitations, it isn't suited for anything other than being a casual secondary Windows PC or maybe as a kiosk thin-client. The spotty wireless capabilities means it isn't suited for these tasks either if you don't plug it in to a wired network connection.
The slow and insufficient storage capacity is definitely the biggest source of problems, with the spotty wireless networking coming in to a close second place. Not being able to update the device through Windows Update means the user have to take extra security precautions when running an outdated version of Windows, or replace the pre-installed operating system with either a newer version of Windows or perhaps Linux.
The short of it's that this isn't a product for inexperienced PC users that doesn't already have a fully stacked cabinet with computer accessories and the know-how to resolve the many roadblocks that pop up along the way.
A second hardware revision with a better Wi-Fi module, double the storage, and better cooling - and Lenovo would possibly have an interesting product worth buying. As the Lenovo IdeaCentre Stick 300 appears today, I can't recommend it for anyone who doesn't intend to run something other than Windows on it and use it with a wired network connection. Which even as a Linux enthusiast wasn't my intended use for the device.
Despite the problems, it's still a neat little device if you can work with its many limitations.
Oh, and Lenovo should have chosen a catchier name than "IdeaCentre Stick 300". I'm never quite sure what to call the device and it's given name is long and unappealing. Lenovo usually give their consumer electronics decent enough names, but they didn't apply their usual naming processes to the IdeaCentre Stick 300.