FileLocator is a search utility for Windows that first saw the light of day under the name Agent Ransack back in 2000. The main user interface of FileLocator Lite has remained mostly unchanged since then, but the premium version FileLocator Pro has gained quite a number of features.
First things first, Windows Search can't find a thing. For anyone used to Mac OS X or Linux and having access to advanced search functionality on their computers, Windows Search (formerly Windows Desktop Search) is a huge disappointment.
It's limited to only searching for file formats it knows about and will even skip plain-text file formats and is useless for pretty much anything but Microsoft Office Documents. Third-party developers are partly to blame, as Windows does offer them ways to have their file formats indexed yet this is rarely used.
Enter FileLocator: the desktop search program that tries hard to find what you're looking for wherever it might be hiding.
Find "everything" with Lite
FileLocator Lite is free for personal and commercial use, although commercial use requires a per-user registration after a month.
The user interface and experience is as good as it gets in an advanced program aimed at experienced users. The Pro version adds more controllers, but they can all be safely ignored unless you need something specific. The main program window opens up with three main input fields: search by file name or file contents, and where to look for the file.
The true power of FileLocator is that it can search inside any kind of file to find what you're looking for. Other search programs will only go through files it assumes the user is looking for.
However, you'll need FileLocator if you're looking for something inside an unusual document format, a string from a program, software source-code, your browser cache, or anything else really. Note that only the Pro version can search inside compressed archives like ZIP.
In the search result section, you can not only see a list of files that match your search query; you can see the line number and line content where the match is made. This little feature alone takes FileLocator a few notches up and beyond their meager competition from the Windows search utility.
FileLocator does a good job with locating files stored on network mapped drives over SMB. There's even a third-version called FileLocator Network that's still offered for sale but that has been discontinued.
This version depended on a search agent process installed on remote machines and could call upon them to conduct a search and submit the results over the network back to FileLocator. Although interest in this advanced functionality was probably incredibly small, it could have lived on as an add-on to FileLocator Pro: allowing users to search their home PC and file server from the comfort of their laptop.
As a 250 EUR separate single-user license purchase, users will probably run the search on remote machines from their local PCs by retrieving and examining files through the network on their local PCs instead.
Unlike the built-in search functionality in Windows, FileLocator will open up every file it can find in the specified directories and drives and look inside each of them a new. Having a fast hard drive or a solid-state drive (SSD) or narrowing down where to search will speed things up considerably.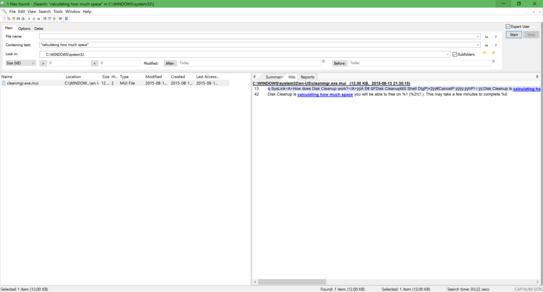 Finding even more and faster with Pro
FileLocator Pro is the paid premium version of FileLocator. A single-user-up-to-three-computers license starts at 50 USD for a single-user-unlimited-number-of-computers license. Major version updates are free for a year, and discounts are offered for upgrades.
FileLocator Lite is an excellent utility that will find files wherever they may be hiding on your system. FileLocator Pro allows searches with more advanced search queries with boolean and DOS expressions.
There are more ways to narrow down searches in the Pro version, but there are also more ways to navigate and use the search results as well. Like in the Lite version, you can see the line numbers and contents from each file that matched your search. If that isn't enough you can also see the entire text extracted from the file with the matching line highlighted.
In the line-by-line interface, you only have the option to copy the entire line containing the match but with the extended text view available in Pro, you can highlight and copy just the bits of the match and surrounding context that you needed.
One of Pro's main strengths over Lite lies in searching inside compressed archives. There doesn't seem to be any logistics in place to search inside compressed archives after looking at the bare file system; searches are executed through all directories and files alphabetically.
For example, searching for a file named "example" may take a long time if a big "backup.iso" file is found on the system before it. Depending on what you're looking for, many searches would probably complete faster if compressed archives were opened only after looking at the regular file system first.
Compressed files support includes 7Z, ARJ, BZ2, CAB, CHM, CPIO, DEB, DMG, GZIP, HFS, ISO, LZH, MSI, NSIS, RAR, RPM, TAR, UDF, WIM, XAR, XZ, Z, and ZIP archives.
Unlike FileLocator Lite, with Pro you can optionally cache some processed files and have subsequent searches of the same files execute faster. The documentation is a bit unclear, but plain-text files aren't stored in the cache; only "processed document files".
More extensive caching and indexing sounds like it would be desirable, but after 15 years of development, we've got to trust that MythicSoft knows how to best do searches. From using FileLocator to find the most obscure long-forgotten pieces of my digital history, I must conclude that it certainly seems to do its job well and fast even without an extensive index.
Windows and tabs management, and keyboard shortcuts
Both FileLocator Lite and Pro versions come with a traditional Windows multiple document interface (MDI), something that will be unfamiliar to many PC users as this way of working with multiple windows contained inside an outer parent window has all but died out. MDI still has its fans and they'll definitely appreciate using it in FileLocator.
FileLocator Pro version offers a more sensible tabbed interface as a compliment to the MDI workflow. I'm definitely a web browser person and biased towards the way browsers work, but I do believe most users will learn to use tabbed user interfaces from their web browsers.
It's unpleasant than to realize that the standard keyboard shortcuts that all browsers have in common. For example, Ctrl + T is used by all browsers and most modern tabbed programs to switch to a new tab but FileLocator Pro will instead move focus to the search criteria. Likewise, Ctrl + [Shift] + Tab is used to move back and forth between tabs in browsers but move between search criteria tabs rather than search-tabs.
Looking at FileLoctor Pro's interface (below), there are a lot of panes to manage and navigate. Getting around the interface using the keyboard requires a razor-sharp focus and memorization of unique keyboard shortcuts. I rarely depend on the mouse for anything but navigating on websites and gaming, but had to revert to the mouse to master FileLocator.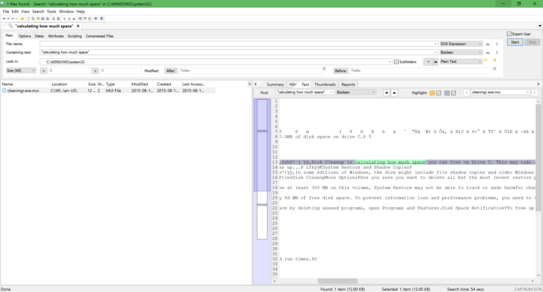 There are a few especially annoying issues with using the keyboard to perform searches. For example, when you press Enter after entering a search query, the program will start to execute your search. Your keyboard focus will still be in the search criteria fields, and you can make adjustments if you spelled something wrong or remembered another keyword.
However, pressing Enter again will not restart the search with the new queries. Instead, it will pause the search until you press it again to resume the search —with the old criteria! You must manually click the Stop button before you can start a new search with the modified search criteria.
Signs of aging
"Agent Ransack", later renamed FileLocator Lite, was released all the way back in 2000. That is a considerable age as I've mentioned already.
The user interface has remained mostly the same since then. However, there isn't much to dislike with the simplicity and main concepts of how the interface is laid out.
The interface doesn't scale well to high-resolution screens (HiDPI). Text and controllers look and work as they should but toolbars, icons, and graphics show clear signs of never having expected there ever be such high screen resolutions available.
Although network mapped drives (network locations treated as they were hard drives) show up by default in the "Look in" drop-down menu for narrowing down the search area, Network Shortcuts doesn't show up. In all other programs I looked, Network Shortcuts were listed along system hard drives in directory selectors and similar user interfaces.
Network Shortcuts weren't such an established concept in Windows 98/ME/2000 which were the current versions of Windows when Agent Ransack first was released and doesn't seem to have been added to it later. Users can still search shared network locations by typing in their addresses into the "Look in" drop-down, but users lose the quick convenience of accessing their Network Shortcuts. iSCSI network disks are incorrectly categorized as local disks rather than a network disk.
Similarly, there's an option in the drop-down for searching in "All local hard drives" that exclude network mapped drives and yet there's no corresponding "all network locations".
The Pro version offers options for integrating into the Windows Shell, replacing the Control + F shortcut in the File Explorer with FileLocator. However, this integration hasn't been updated to work with Windows 10 nor does it work with all locales in Windows 8.1. Other integration points, like context menus, work in all versions of Windows.
Despite receiving a steady trickle of minor and major updates, auto-update isn't enabled by default. For FileLocator Pro this kind of makes sense, as the software requires paid updates after one-year of purchase.
However, you would still expect to automatically get free updates while it lasts, and the free FileLocator Lite doesn't have this consideration but still doesn't automatically update itself. The setting for enabling automatic updates is hiding in the Help menu: Check For Updates: Automatically check for updates.
Branding confusion
Mythical Software produces two identical pieces of software called "Agent Ransack" and "FileLocator Lite". They are the exact same product with slightly different branding and icons. Throughout this review, I've been consistently writing FileLocator Lite but the name can be used interchangeably for Agent Ransack.

Agent Ransack's icon on the taskbar looks mostly like a guy wearing a fedora while smoking a cigar with smoke coming up from the end. It's supposed to be a spy holding a magnifying glass with hat and his collar pulled up high. It's hard to pull off a good icon in 24×24 pixels, but I believe MythicSoft has missed the mark on this one by adding too much complexity to their icon.
In Windows 10's default theme, it's just entirely illegible. FileLocator Lite and Pro, on the other hand, has a clean and simple magnifying glass that's readily associated with search functionality. Although not very distinct, the icon for FileLocator is easier to locate on the taskbar and does a much better job than Agent Ransack throughout the Windows shell.
Although the name "Agent Ransack" has a clear sentimental value for the developer, it's probably time to let go. Having two identically products with their own brand is unnecessarily confusing for potential users trying to make up their minds about which variant to get.
The two product pages on MythicSoft's website are more or less identical, running both pages foul of the undesirable duplicate content page deranking penalty in Google Search Results.
I stick with FileLocator because when I search for a program to find files in the Start menu, "filelocator" comes much more natural to me than the alternative. Plus, I prefer the cleaner icon.
Conclusion
Both FileLocator Lite and Pro are solid options for powerful day-to-day file navigation on Windows. It should be considered essential for anyone who works with large amounts of text or code. FileLocator is also essential to anyone who wants to dig deeper into Windows itself and Windows apps.
Neither versions are probably suitable for anyone who'd be scared by the complex interface. FileLocator does a good job with its interface, but providing advanced search functionality brings with it a certain level of complexity that just has to be overcome for it to be useful.
Although it's a Windows program through and through, I would love to see a version of FileLocator for Linux and Mac OS X. Command-line tools can perform everything FileLocator can, but the user interface is quite good when reviewing many matches or you're not entirely sure exactly what you're looking for yourself. However, FileLocator should probably invest in modernizing their Windows program before branching out to other platforms.
FileLocator is probably the tool for you if you've ever been upset at Windows Search's poor search performance and lackluster results. If you know what the file is named, Windows Search may be all you need, but as soon as you need to look inside files —do yourself a favor and get a copy of FileLoctor.
The two factors that should decide whether you choose Pro or Lite are the size of the dataset or the number of local and network drives you have, and whether you need to look inside compressed archives. The caching function available in the Pro version can make a big difference when searching on slow spinning hard drives or on network drives.
For searching on a laptop with only one fast solid-state drive (SSD), Lite should be more than enough unless you need to search inside compressed archives. For my own uses, the various advanced search syntaxes available in the Pro version didn't make much of a difference to FileLocator's ability to find what I asked it to find for me. Use cases will, of course, vary greatly in this area.
I reviewed FileLocator Lite version 2014.11.21.59552 and FileLocator Pro version 2015.08.05.55508, both in 64-bit versions on Windows 10.