Brave browser and Brave Payments are still in beta. Readers and publishers can now sign up to exchange crypto-currencies in lieu of online advertisement revenues. But have publishers begun accepting payment yet?
Anyone with a domain name, or control over the DNS zone file for a domain name, can sign up to become a verified creator with Brave Payments. As a verified publisher, you can expect a once-a-month payment in Bitcoin from Brave Software funded by Brave's complicated advertisement-replacement-and-direct-visitor-contribution monetization scheme. Rather than trying to explain the complexities of this, I'll let Brave Software's infographic do the talking: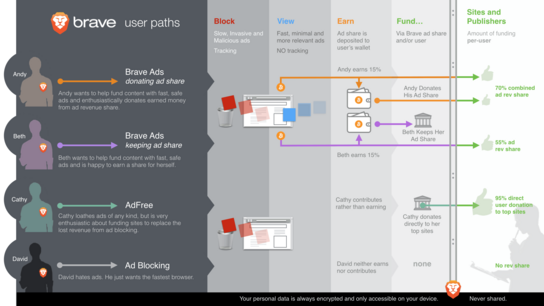 Since the first beta release of Brave Payments in September, only the model explained in the Cathy and David personas at the bottom of the infographic have been rolled out in the wild. This is the simplest model where readers donate Bitcoins to their favorite websites automatically through Brave. I've argued before that even this, the simplest of Brave's monetization schemes, is too complicated for users. I still believe Brave should be a browser extension rather than its own web browser to attract more paying users.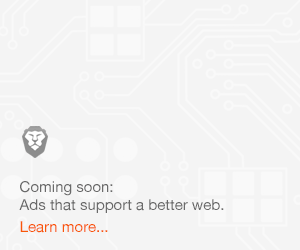 The even more complicated business models where Brave Software see themselves swapping out regular web ads with their own self-labeled non-privacy invading and non-annoying ads, has yet to be shipped. Under this model, websites and their visitors split the revenue from ads among themselves with Brave Software taking a cut off the top.
This last aspect of Brave's revenue model quickly received criticism from the online news publisher organization News Media Alliance (NMA). The NMA wrote an open letter to Brave expressing their displeasure over Brave's intent to substitute the original ads of their members' websites with those of Brave; with 17 major signatories like the New Your Times and The Washington Post.
At the time of writing there are 120 verified publishers who've agreed to partner with Brave Software and accept Brave Payments. The two biggest names on the list so far are the two Bitcoin news and market oriented websites Coindesk and Bitcoin Magazine. It may not come as a big surprise to anyone that Bitcoin related websites would be signing up for Brave Payments. 11 of the 120 verified publishers are Bitcoin related websites. There's no sign of any News Media Alliance members on the list or of any other major news publisher or website.
The most popular 'publisher' on the list, in terms of Alexa global ranking, is the website of the CSS Working Group. The rest of the list consists mainly of placeholder pages belonging to individuals, a few blogs like this one, some personal photo galleries, and a few developer oriented resources and tools. Most of the verified publisher websites seem to belong to enthusiast users rather than large media organizations.
Brave will start contacting websites and ask them to sign up for Brave Payments once their domain has accumulated donations equivalent to $ 100 USD in Bitcoin. Any domain can register at any time, however. Brave is paying publishers at the beginning of each month requiring a minimum payout of at least 5 USD worth of Bitcoin. Payment is sent to a Bitcoin address that's associated with the domain during the domain verification process.