I've been using Pocket Casts as my preferred podcast player for years now. I just found out there's a new paid webapp version of this gem too. I decided right away to give the webapp a try. I've been using the Android app version for several hours every day for several years. A desktop/web version that can synchronize my podcast subscription and episode playback positions with my mobile phone sounded almost too good to be true.
I did not get going with the webapp right away. After logging in with my account, I was greeted by the below welcome screen.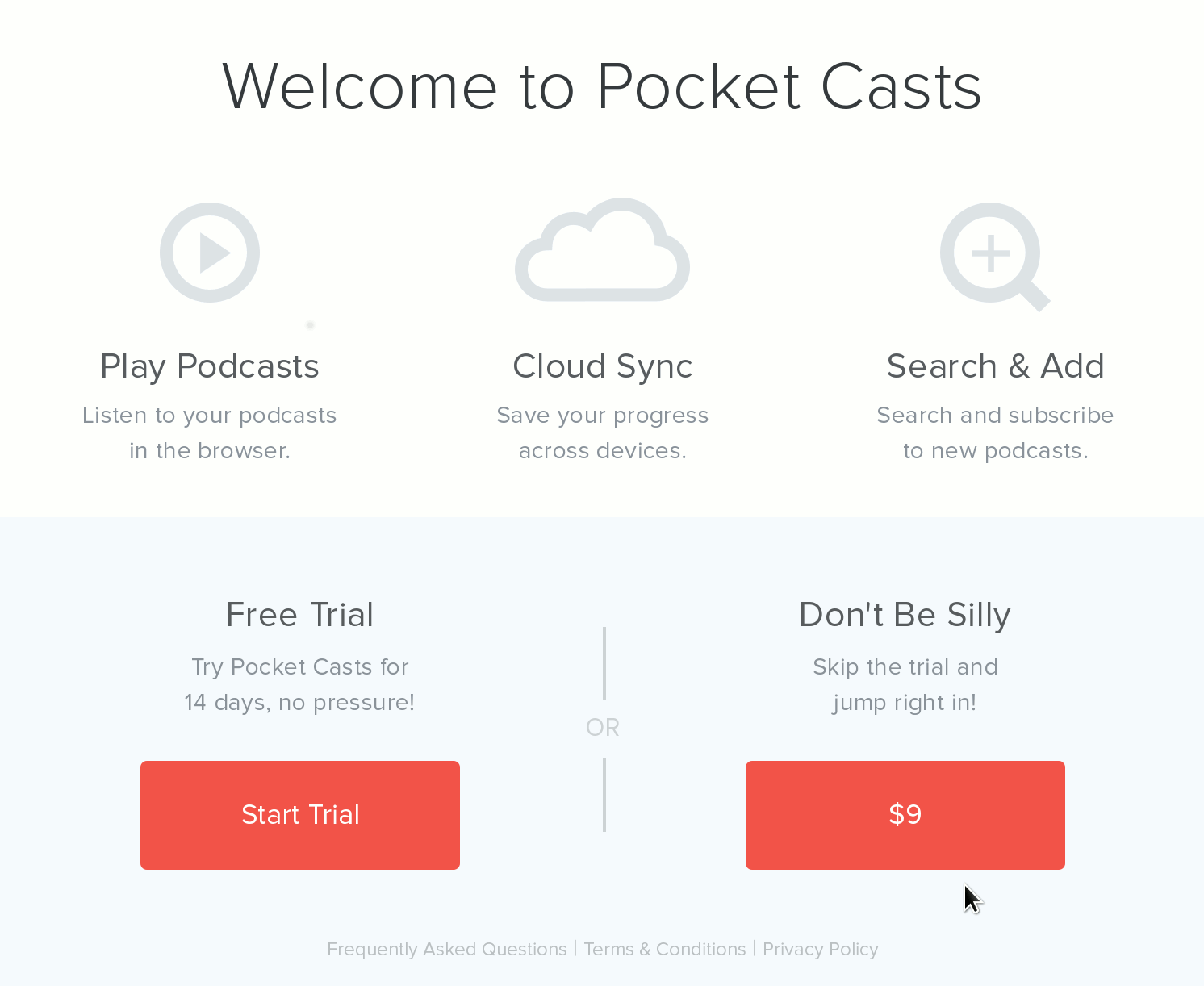 The one-time payment button features an Internet meme from the Futurama TV series. Fry, the show's protagonist, is so overwhelmed by the awesomeness of a new tech product that he interrupts a sales clerk trying to explain the realities and drawbacks of the product with the catchphrase: "Shut up and take my money!"
The cheekiness yet appropriate use of this Internet meme in this context completely bypassed my brain's purchase decision making center. I think this was pure marketing genius. Anyone who would recognize the meme would know exactly what was expected of them.
Shifty Jelly, the Australia based developer behind Pocket Casts, have already gotten 4 USD from me for their excellent Android app. Which have probably been the single best app investment I've ever made. I was somewhat hesitant to pay for the same app on a new platform. Paying per-platform instead of paying once to have the service on any platform irks me a bit. It indefinable feels wrong to me.
However, the nice little design detail on their payment button won me over right away. Without even testing the service first! I must say i like the one-time payment model over subscription.
The webapp at 9 USD is a bit pricier than the mobile apps. I find the pricing fair, given the increased value of a platform neutral and portable app versus one locked to one platform/ecosystem. This should be a good sign to anyone building webapps: you can ask me for a one-time payment assuming you've a reputation of delivering quality software. —and a good sales experience.

I also want to recommend the service itself. I've only tested the webapp for one day so far. The synchronization features works with the mobile app, subscriptions and episodes update like they should, you can increase the playback speed, and the current playback position is continuously pushed to your mobile so you can continue listening on-the-go.
It looks like I will no longer be so heavily relying on a mobile app to listen to podcasts in my own home. Using my mobile phone for playing audio while at home have always felt a bit silly. Setting it up to stream to one of the house's more capable devices is always a pain. Being able to play and sync directly from any of my workstation or laptops will be a significant improvement.
As a webapp, it's a bit limited in terms of audio codecs and browser support. Not all browsers support the same codecs so the experience may not yet be flawless everywhere. The episodes stream from their originating servers and aren't downloaded to your computer or streamed by Shifty Jelly. Some low-budget podcasts rely on slow distribution servers and require a full minute of caching before you can play them. Not Pocket Casts fault any of this. Its all just today's limitations of the web as a platform.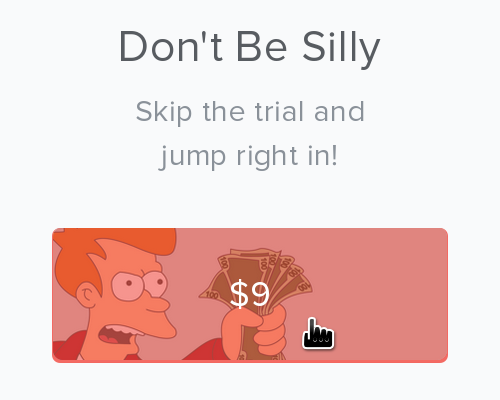 I'll definitely be getting a credit card with this meme image as the design.