Nearly five months ago, I released a new Windows Live Tile plug-in for Nikola — the static website generator. The plug-in generates tiles that users can add to their Start screens in Windows 8.1 and Windows Phone 8.1. Live Tiles will feature notifications with the latest headlines and the design of the site.
Windows will do a decent job of guessing what design to use for your site. However, the tiles will be static and are likely to use a misfit or upscaled logo. With this new plug-in, Nikola powered sites can present pretty designs and their color scheme for their tiles. Find hints for designing great tile images in Tile visual assets.
The plug-in also generates Live Tiles. These are tiles with live content updates that rotates in-between the site's name and logo. The tiles will use the headlines and thumbnails — when available — of the five latest posts. Assuming high-quality headlines and some luck, your site's tile should help build up a loyal following for your site.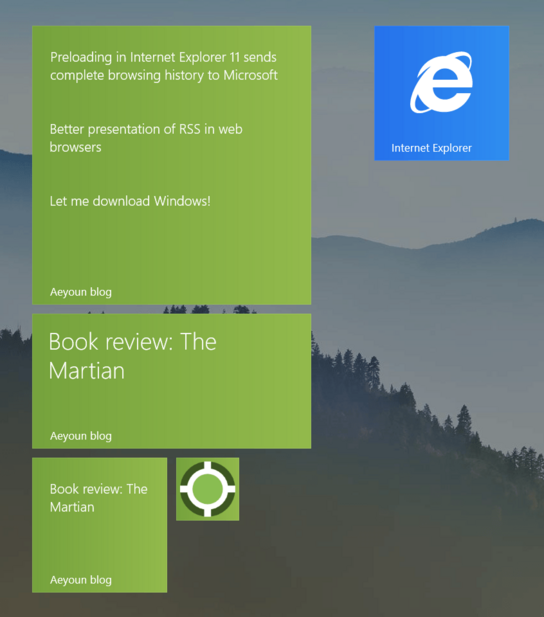 Install the plug-in by running nikola plugin -i windows_live_tiles. Some simple configuration will be required. Please refer to the documentation and an example configuration. After the initial configuration, the plug-in is a set-and-forget enhancement to any website. Requires Nikola version 7 or later.
The plug-in has been available for almost five months already. Sorry for the late announcement! If a user stays logged in for months on end, the tiles may stop updating the headlines. This is a bug in Windows itself. The monthly security updates that requires rebooting should alleviated this problem.
Microsoft changed pretty much everything about how Live Tiles work and were detected from Windows 8 to 8.1. This plug-in only targets Windows 8.1. There's no support for pinned websites yet in Windows 10 Preview, but that may come further down the line.
Update (): The plug-in produces Live Tiles compatible with Windows 10 and Windows 10 Mobile.