Microsoft To-Do is a nice looking multi-platform task manager built around a workflow that I've found helpful for prioritizing and completing tasks. It has just the right number of features so you can focus on getting things checked off your task lists rather than focusing on managing your lists. If only it had worked more reliably … .
I've given up on getting organized using Microsoft To-Do after trying to use it for ten months. The user experience design is solid, and I like most things about the service. Unfortunately, it doesn't work reliably enough to get anything done.
I wanted to write a review of Microsoft To-Do for a long time but I've had so much problems with synchronization in To-Do that I never got around to it. Instead I'll stick to just discussing the parts that made me leave the service: its reliability, sync, and data portability problems.
The waiting and reloading
The webpage takes over 10–15 seconds to load in a modern web browser. Let's just say the issue here's that it's not designed with conservative web development in mind; the web app loads 120 different resources and weighs in at 3,3 MB. I've got plenty of bandwidth, low latency to all the web servers involved, and a fast modern computer but To-Do still takes an unacceptably long time to load.
I'll admit to being a forgetful person, and I've found myself being unable to remember why I opened the app following the long loading time. To make matters worse, the app frequently fails to load so you just sit there and stare at the loading animation for a long while before you give up or try loading it again.
You can't leave the web app open in a tab all day to avoid the initial load either. You'll be asked to reload it after a few hours or sometimes after only a couple of minutes. I've also found that it gets out of sync if you leave it open for too long and you'll also have to reload it to see changes made on other apps or devices.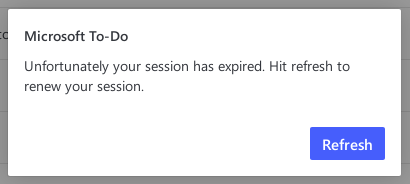 This is also a problem when using only one device. I've added six items and only four items appear in my list. After one or two reloads, things usually show up where I expect them to but I get the impression that I can't trust the app to function as it should.
The Android app is clearly made by people from a different department because it loads instantly and is almost always up to date on the latest changes. The Android app does however suffer from jerky scrolling and occasional slow downs where it stops responding for upwards to ten seconds seemingly without any reason.
Synchronization is a mess
Microsoft acquired Wunderlist, a popular task manager service, in 2015 and have created quite a mess of it since. Microsoft has announced that they'll be replacing Wunderlist with To-Do in time, and the company currently have five distinct to-do/task list apps and services. Here is a quick overview of which of them can talk to each other.
Microsoft's different to-do apps – cross-app synchronization

| App | To-Do | Launcher | Cortana | Outlook | Wunderlist |
| --- | --- | --- | --- | --- | --- |
| To-Do | Yes | No | No | Yes | Migrate ← |
| Launcher | No | Yes | Yes | No | Sync ← |
| Cortana | No | Yes | Yes | No | Sync ← |
| Outlook | Yes | No | No | Yes | No |
| Wunderlist | Migrate ↑ | Sync ↑ | Sync ↑ | No | Yes |
I've mostly stuck with just using Microsoft To-Do for Android and on the web but it has plenty of syncing issues between on its own.
Syncing generally works if I open the app, wait a few seconds to let it sync, make my changes, and then close the app. If I start making changes too early or leave the app running, I'll often get out of sync with other instances. The worst thing you can do is to leave the web app open in a tab on your laptop, put the laptop to sleep for an hour, and then resume using the app. You'll often get the session expired issue, as mentioned above, but if you do manage to make changes these changes will sometimes just disappear into the ether.
If I don't use the Android app for a few days, it can take several minutes for it to catch up on changes — even if there are only a dozen or so changes. This problem seems to go away entirely if I keep using the app a couple of times a day every day. However, I'm unwilling to change my behavior and work/life balance to suite the needs of the app to get a constant supply of my attention.
Data portability
You can export notes from Wunderlist and import them into Microsoft To-Do. You can't upload a standard VTODO-file (part of the iCalendar specification; RFC 5545) or any other task list file format.
You're supposed to be able to export your tasks through Outlook.com, but there's no way to import the exported data into To-Do again. The data export will be in the Outlook Personal Folders file format (.pst). I haven't found any other task manager app that's willing to import from the PST file format.
I said "supposed to" as I'd to wait for the export process for over 12 weeks before I got my data export. I initiated the process in (well after the GDPR went into effect) and it didn't complete until the end of September. I reached out to Microsoft Support through multiple channels and they eventually offered to do a manual export for me. At that point, however, I'd already manually copied out the data I wanted to save from the service and moved on.
Microsoft To-Do is currently free for personal use or otherwise included in an Office 365 license; but I'd not be surprised if Microsoft slapped a Office 365 license requirement on it for everyone within the next year or so.